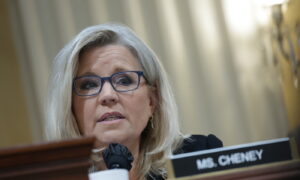 CASPER, Wyo.—Wyoming's Big Sky deserts, high plains, and glacier-gilded peaks are the backdrop for a mid-August showdown in a summer of discontent within the Republican Party.
Former President Donald Trump and his claims of a stolen election are not on trial in crimson red Wyoming, where he won 69.9 percent of the vote in 2020, more than any other state.
Instead, Wyoming's only congressional representative, three-term Rep. Liz Cheney (R-Wyo.), is the one on trial for her vocal criticism of the former president, voting with 10 House fellow Republicans for his impeachment, and serving as co-chair of the House committee investigating the Jan. 6 Capitol breach.
Trump is backing challenger Harriet Hageman, a Fort Laramie natural resources attorney, in the Aug. 16 Republican congressional district primary and taking an active role in the election, including lobbying Republican Gov. Mark Gordon in March to endorse a bill closing state primaries to "cross-over voting" and staging a May Casper rally for Hageman.
Hageman has ridden that endorsement from Trump to a huge lead in the polls, including a June 15 Mason-Dixon Polling & Strategy/Casper Star-Tribune survey that found she is leading Cheney by more than 22 points.
Although Hageman is Trump-endorsed, she has not made his claims of a "stolen election" central to her campaign. She has focused on inflation, the economy, energy policy, and the fact that Cheney is rarely in Wyoming, choosing to probe Trump's role in Jan. 6 events this summer instead of meeting and greeting constituents she is supposed to be representing.
Liz Cheney has long forgotten she works for Wyoming (or perhaps she never knew), not the Radical Democrats. Wyoming deserves a Congresswoman who will represent us AND our conservative values. It's time to retire elitist Liz Cheney. pic.twitter.com/dj2NLaDCiy
— Harriet Hageman – Text WYOMING to 90103 (@HagemanforWY)
---
The views and opinions expressed here are solely those of the author of the article and not necessarily shared or endorsed by Conservative News Daily
All copyrights and legal uses attributed to content are located at the article origination: The Epoch Times, Wyoming Hageman-Cheney Clash Begins Stretch Sprint to Aug. 16 Ballot
Original Image Credit: The Epoch Times 
---