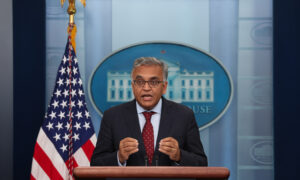 The newly-updated COVID-19 booster shots targeting the latest Omicron variants of COVID-19 will be available to Americans over the age of 12 in the coming weeks, White House COVID-19 Response Coordinator Dr. Ashish Jha said on Wednesday.
"I believe it's going to be available and every American over the age of 12 will be eligible for it," Jha told NBC News, adding that the booster jab will be available to teens and adults "in a few short weeks."
The availability of the newly-updated shots will depend on whether they are cleared for authorization as expected by the Food and Drug Administration and Centers for Disease Control and Prevention, Jha said earlier this week.
If authorized, the booster jabs could be available by the start of September at the earliest.
"We're going to know more about this in the upcoming weeks and these vaccines will become available by early- to mid-September," Jha said at an event hosted by the U.S. Chamber of Commerce Foundation, ABC News reported.
"But the big picture, bottom line, is these are substantial upgrades in our vaccines," Jha added. "And those vaccines are coming very, very soon."
U.S. drug regulators recommended in June that vaccine makers reformulate their shots to include components of BA.5 and BA.4, another Omicron subvariant.
Newly-Updated Boosters Will 'Work Much Better'
The newly-formulated booster shots target both BA.4 and BA.5, as well as the original strain of the virus. Presently, BA.4 and BA.5 appear to be the most vaccine-evasive strains of the virus and also largely bypass immunity from a previous infection.
As of Aug. 18, BA.5 cases account for 88.8 percent of all COVID-19 cases in the United States, followed by BA.4 (5.3 percent) and a newer version of BA.4 known as BA4.6 (5.1 percent), according to the Centers for Disease Control and Prevention.
As cases continue to rise, the Biden administration has signed
---
The views and opinions expressed here are solely those of the author of the article and not necessarily shared or endorsed by Conservative News Daily
All copyrights and legal uses attributed to content are located at the article origination: The Epoch Times, Updated COVID-19 Booster Shots for Over-12s Expected Within Few Weeks: White House Official
Original Image Credit: The Epoch Times 
---