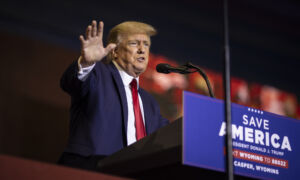 Former President Donald Trump criticized the media for suggesting that Rep. Liz Cheney (R-Wyo.) had a "bright" political future, after her defeat in the Wyoming GOP primary on Aug. 16.
"The Fake News Media continues to push Crazy Liz Cheney and the fact that, despite losing her Wyoming Congressional race to a far superior candidate by an unprecedented 40 points, she has a 'bright' political future," Trump wrote on his Truth Social platform on Aug. 17.
"Really? I don't think so, but perhaps that's why we call it the FAKE NEWS!" Trump added.
In a separate Truth Social post, Trump added, "She's too angry and sick to succeed in the future, but who knows!"
Wyoming Republican congressional candidate Harriet Hageman waves as she takes a picture with children during a primary election night party in Cheyenne, Wyoming, on Aug. 16, 2022. (Michael Smith/Getty Images)
Harriet Hageman, a natural resources attorney endorsed by Trump, defeated Cheney by more than 37 points, taking 66.3 percent of the vote, according to the Wyoming Secretary of State's Office. Hageman picked up 113,025 votes to Cheney's 49,316.
The margin of victory was greater than the estimate of a poll conducted before the primary. The University of Wyoming's Wyoming Survey and Analysis Center found that Hageman was ahead by nearly 30 points, based on a survey conducted from July 25 to Aug. 6.
Cheney, one of 10 House Republicans who voted to impeach Trump, serves as the co-chair of the House committee investigating the Jan. 6 Capitol breach. In June, Rep. Tom Rice (R-S.C.), who also voted to impeach the former president, also lost by a huge margin of 26.5 points in South Carolina's 7th Congressional District primary.
It was a crushing defeat for Cheney, considering that she garnered 73.5 percent of the vote in the
---
The views and opinions expressed here are solely those of the author of the article and not necessarily shared or endorsed by Conservative News Daily
All copyrights and legal uses attributed to content are located at the article origination: The Epoch Times, Trump Dismisses Media Coverage of Cheney Having 'Bright' Political Future Following Primary Defeat
Original Image Credit: The Epoch Times 
---