Democrat and Republican lawmakers on the Senate Judiciary Committee on Tuesday denounced the protest outside the home of Supreme Court Justice Brett Kavanaugh.
A liberal pro-abortion group demonstrated outside Kavanaugh's home on Monday in response to a Supreme Court decision declining to take up a significant abortion restriction in Texas.
"This protest looks like another blatant attempt to intimidate the judiciary and anyone who disagrees with the radical agenda pushed by partisan advocates," Sen Chuck Grassley (R-Iowa) said in opening remarks during a committee hearing on Sept. 14.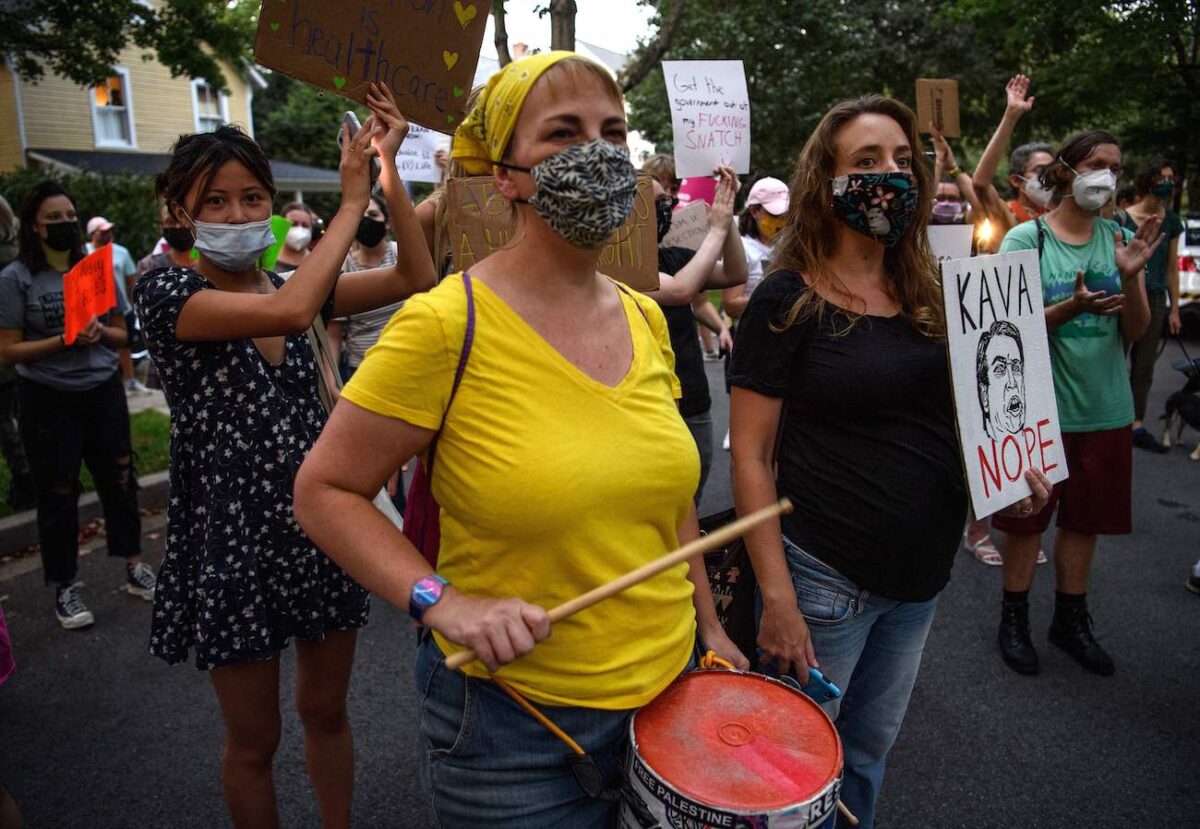 Grassley noted that the leader of the group, ShutDownDC, recently pleaded no contest to criminal trespass charges and was told to stay away from the wife of Sen. John Hawley (R-Mo.).
"These groups do it for partisan purposes they want to bully judges into ruling in line with their liberal agenda," Grassley added.
ShutDownDC did not respond to a request for comment.
"We all know you have to have a tough mental hyde to be in this business, but it's absolutely unacceptable from my point of view, to involve any major public figure's family or their home, or to involve yourself in criminal trespass in the name of political freedom of speech," Sen. Dick Durbin (D-Ill.) said. "There are proper venues to express yourself and I don't believe a person's home or their family should be fair game."
Sen. Patrick Leahy (D-Vt.) also criticized the protest.
"You can state your opinion of any one of us at the ballot box, you can write letters, but to try to intimidate family or anything like that is wrong," Leahy said.
Chief Justice John Roberts early last year issued a pointed statement condemning a speech by then-Senate Minority Leader Chuck Schumer (D-N.Y.), who appeared to intimidate Kavanaugh and Justice Neil Gorsuch, in remarks at a protest outside the Supreme Court.
"You have unleashed the whirlwind and you will pay the price. You won't know what hit you if you go forward with these awful decisions," Schumer said.
In a rare rebuke issue shortly after, Roberts condemned Schumer's rhetoric.
"Justices know that criticism comes with the territory, but threatening statements of this sort from the highest levels of government are not only inappropriate, they are dangerous. All members of the court will continue to do their job, without fear or favor, from whatever quarter," Roberts said.
Continue reading at The Epoch Times, Senators Denounce Abortion Protest Outside Kavanaugh's Home