The number of illegal immigrants crossing over the US-Canada border has dramatically increased this fiscal year causing law enforcement to experience overwhelming pressure, according to internal documents obtained by the Washington Free Beacon.
Since October 2022, the US-Canada border experienced an unprecedented surge of illegal border crossings. Reports indicate that Customs and Border Protection has apprehended over 3,200 illegal immigrants who crossed the border outside port of entries in the fiscal year 2023 so far, making it the highest on record. For fiscal year 2022, CBP recorded 2,238 encounters while in the previous fiscal year it recorded 916 encounters. The situation has only become worse every month with no indication of it slowing down.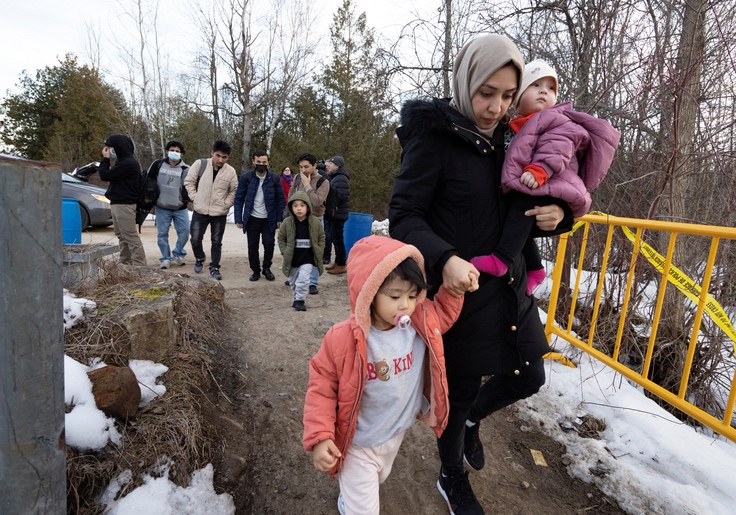 The international border that is most vulnerable to illegal crossing is thought to be the Swanton Sector which encompasses Vermont, counties in New York and New Hampshire that border Canada. The DHS estimated that the Swanton Sector has had to deal with a 2000% increase in illegal border crossings since the beginning of the fiscal year. More than 60% of all illegal crossings from Canada have been detected in that sector.
With the northern border growing more chaotic each day, Border Patrol has been left scrambling. As a result, this has caused significant inconvenience to the 2,000 Border Patrol agents that work in these areas. It was also revealed that only about 450 of the agents are ever on duty at any given time, and they do not have resources like fences or drones as their southern Nevada and Arizona counterparts.
As illegal border crossings from Canada continue to surge, the Border Patrol union president called for additional agency funding in order to ensure the proper securing of the northern border. Testifying before the House, he mentioned the current staff shortage of roughly 2,000 agents to patrol the nearly 5,500-mile U.S.-Canada land and water border is insufficient to cope with the current situation.
According to reports, the White House has falsely claimed that over 23,000 agents patrol the nation's borders, a figure disputed by both staff and outside experts. Earlier this month, Border Patrol Chief Raul Ortiz confirmed the agency oversees a force of roughly 19,000 and called for funding to hire at least 3,000 more.
---
---
" Conservative News Daily does not always share or support the views and opinions expressed here; they are just those of the writer."