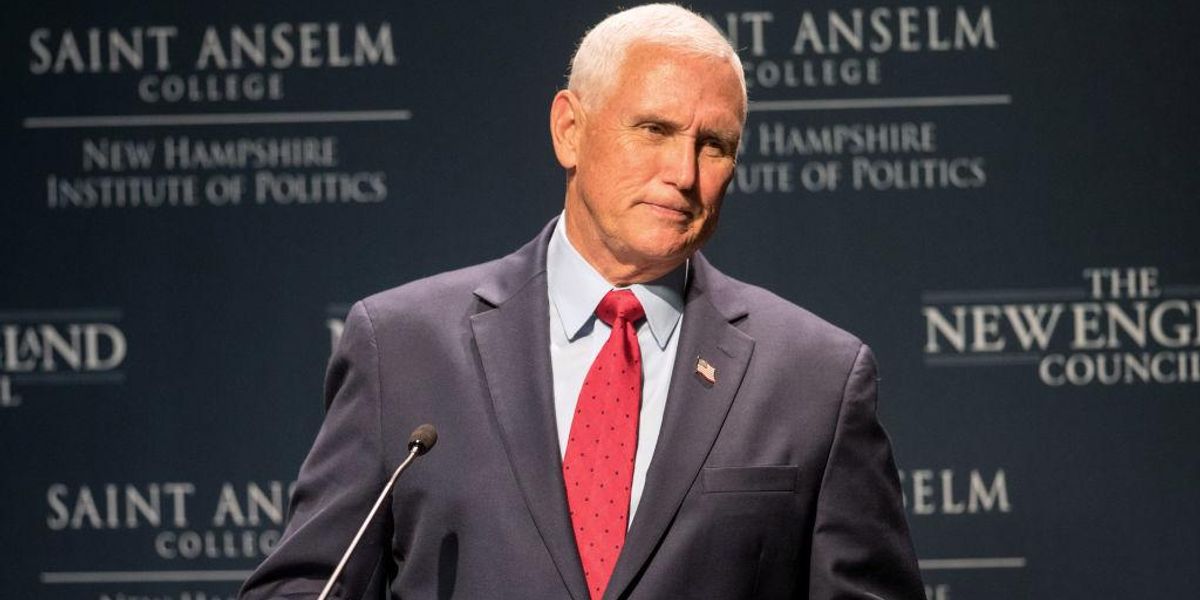 Former Vice President Mike Pence said Wednesday he would consider testifying before the January 6 Committee if called to do so by the House of Representatives.
Speaking at the "Politics & Eggs" breakfast at Saint Anselm College in New Hampshire, Pence told the audience any "invitation" he receives to testify would be given "due consideration," though he suggested there may be executive privilege concerns.
"If there was an invitation to participate, I would consider it," Pence said, according to WMUR-TV. "But you've heard me mention the Constitution a few times this morning. In the Constitution, we have three co-equal branches of government, and any invitation that would be directed to me, I would have to reflect on that."
"It would be unprecedented in history for a vice president to be summoned to testify on Capitol Hill," Pence continued. "But as I said, I don't want to prejudge. So if ever any formal invitation [is] rendered to us, we'd give it due consideration."
If called to testify, Pence would be the first former vice president to appear as a witness before a congressional committee. Schuyler Colfax was the first sitting vice president to do so in 1873, while sitting presidents including Abraham Lincoln, Woodrow Wilson, and Gerald R. Ford have testified to Congress.
Pence had a falling-out with former President Donald Trump after the events of Jan. 6, 2021, when he refused to block the certification of President Joe Biden's victory in the 2020 presidential election.
Former aides to the vice president Marc Short and Greg Jacob have previously testified before the committee on the events that occurred when Trump's supporters formed a mob and instigated a riot at the U.S. Capitol on Jan. 6, 2021. Rioters had made violent threats against Pence, including threatening to "hang" him.
Jacob, a lawyer for Pence, said that despite the threats against his life, the vice president refused to leave the Capitol on that day because he "did not want to take any chance that the world would see the vice president of the United States fleeing the United States Capitol."
[embedded content]
WATCH: Why Mike Pence refused to leave the Capitol on Jan. 6 #shorts

youtu.be

Pence's personal testimony would be of interest to Jan. 6 Committee investigators who have sought answers on Trump's effort to pressure his vice president to overturn the election. Rep. Liz Cheney (R-Wyo.), one of two Republicans on the committee, previously charged Trump with urging Pence to take "illegal" and "unconstitutional" actions.
The former vice president's visit to New Hampshire, an early primary state, comes amid widespread speculation that he intends to challenge Trump for the 2024 Republican presidential nomination.
The "Politics & Eggs" breakfast is a forum frequently visited by prospective presidential candidates. Pence last spoke there in 2019 while campaigning for Trump's re-election.
---
Read More From:
---
" Conservative News Daily does not always share or support the views and opinions expressed here; they are just those of the writer."