EXCLUSIVE: Rep. Matt Gaetz (R-Fla.) suggested that the classified document scandal surrounding President Joe Biden Democrats are ready to let the president flailing off the hook.
"There's an element to this that feels like the Democrats are taking out Joe Biden," Gaetz spoke to Fox News Digital Wednesday. 
"I don't know that that's the case, but I don't know that it's not," He stated. "But just as Joe Biden is hardening the cement around his decision to run for president again, they start looking for what classified documents might have been tucked away eight years ago."
In recent months, three batches of classified documents from the Obama administration were discovered on Biden's property: one at the Penn Biden Center Two at his Wilmington, Delaware, property and one in Washington, D.C.
HUNTER BIDEN, CHINA, CLASSIFIED DOCUMENTS: MYSTERY SWIRLS AROUND PENN BIDEN CENTER
The Justice Department began its investigation into Biden after the first batch was discovered by the president's personal lawyers at the Penn Biden Center in November, just days before the midterm elections. After CBS News reported the story, the White House was forced into a response. After additional information, Attorney General Merrick Garland initiated a special counsel investigation. classified documents from Biden were found at the president's Wilmington home.
Gaetz said everything is speculative until it's revealed what's actually in the documents that were recovered.
"I mean, there's an element of this where it's Joe Biden's lawyer who turns this information over, it's Joe Biden's own Justice Department that's appointed a special counsel to investigate him – maybe the Democrats have realized that Joe Biden is not useful to them anymore, and they just assume toss him out and get a younger crop of candidates engaged in the next presidential race," He stated.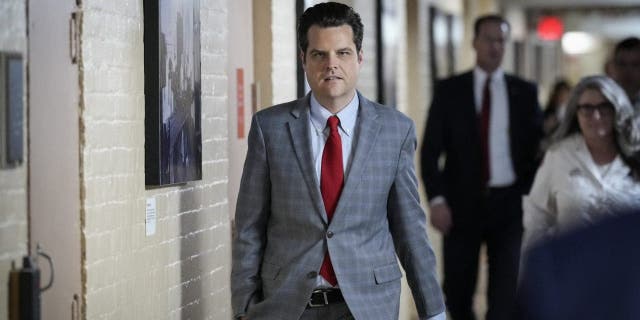 Gaetz stated that the main concern is any connection between the Penn Biden Center documents and the ones found at Gaetz's. reported millions in donations The center is run by the University of Pennsylvania and unnamed Chinese donors
"We have a lot to learn about the content and substance of those documents, and if they relate to China, and if they were at that Biden Center at UPenn funded by China. That's going to be a far more grave concern," The congressman said.
"What if the documents relate to our economy?" He stated. "What if Joe Biden was hustling information to his CCP (Chinese Communist Party) funders at the Biden Center for UPenn and that gave China economic advantage over Americans? That would create a nexus between those documents and our economic woes at the hands of rising China. I don't know because I don't know what the documents pertain to, but documents in and of themselves don't seem to have an obvious connection to the quality of life of my constituents, in the absence of understanding their content and context."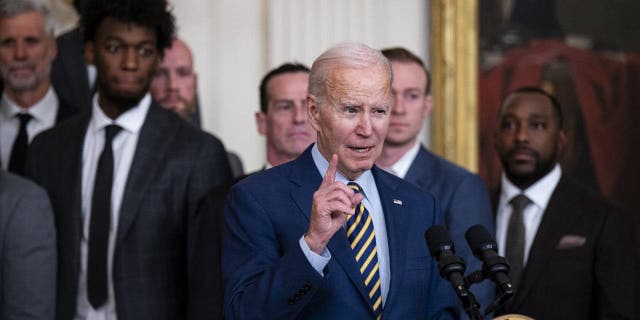 ARE MORE CLASSIFIED DOCS OUT THERE? KARINE JEAN-PIERRE DODGES QUESTION
Gaetz stated that Americans are more concerned about the economy than they are with their personal lives.
"I haven't been frothing at the mouth over the mere existence of some documents in a garage in Delaware," He stated. "You know, I believe Americans are more worried about the weaponization of government against them than they are, you know, what papers Joe Biden stuffed in [the] glove box of his Corvette."
"If the documents pertain to China and were at a repository funded by China, one could reasonably assess that the scandal runs deeper and would have a real damaging effect on our country," He added. "If they are mementos or, you know, documents that have far outlived any sort of functional relevance quite some time ago, then I think that's different."
CLICK HERE TO GET THE FOX NEWS APP
Gaetz had made a similar comment via Twitter days before, writing that the Biden documents were his. "aren't critical to quality of life for my constituents."
"I guess my view would change if the Biden docs related to China, as the CCP was functionally underwriting the Biden Center," He added.
The special counsel investigation Just months after another similar raid into Donald Trump's property, the FBI launched an investigation into Biden. The probe was into classified documents found at Trump's Mar-a-Lago property. The FBI raided Trump's home after it was discovered that there were more documents than originally believed, based on interviews and unsuccessful negotiations to turn them over. Trump claims he didn't do anything wrong in the matter.
CLICK HERE TO GET THE FOX NEWS APP
The White House Biden's case is unique because Biden's staff worked with the DOJ, National Archives, and Trump's team rejected requests to turn the classified documents over. 
Fox News' Patrick Hauf contributed to this report.
---
---
" Conservative News Daily does not always share or support the views and opinions expressed here; they are just those of the writer."