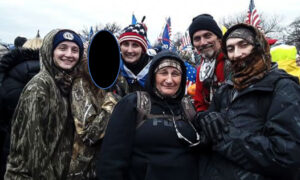 Parents get 14 days in jail, 90 days home detention; three children get mostly probation for 52 minutes in the Capitol
A Texas woman who wore a Donald Trump 2020 flag "like a superhero cape" in the Capitol on Jan. 6 was sentenced to 90 days of home detention—a harsher sentence than that given to two younger siblings—because a federal judge said she should have "exercised much better judgment."
Judge Beryl Howell also sentenced the two parents of the Munn family—Thomas Munn, 55, of Borger, Texas; and his wife, Dawn Munn, 57—to 14 days in jail each, plus 90 days of home detention. She faulted the parents for being a bad example for their children on Jan. 6.
Prosecutors had asked for 30 days in jail for the parents and 21 days in jail each for three of their eight children charged in the case. Each was convicted in a plea agreement on one count of "parading, demonstrating, or picketing in a Capitol building," a federal Class B petty misdemeanor.
The family sentencing came during a nearly four-hour hearing on Oct. 12. The case involves a family that entered the Capitol through a broken window at 2:25 p.m. on Jan. 6 and spent 52 minutes inside, walking around and trying to find a way out of the building.
None of the Munns was charged with violence or vandalism for their actions on Jan. 6, but an irate Howell said they "helped facilitate a riot" by their "willful, intentional joining of this mob."
Trump Flag Cited
In sentencing Kristi Munn, 30, Howell said she weighed the wearing of the Trump flag as an aggravating factor compared to the actions of Munn's two younger siblings. She sentenced Kristi Munn to 36 months of probation—including 90 days of home confinement—60 hours of community service
.....Continue Reading at The Epoch Times

---
The views and opinions expressed here are solely those of the author of the article and not necessarily shared or endorsed by Conservative News Daily
---