Texas Republican Rep. Pat Fallon filed impeachment articles Homeland Security Secretary Alejandro Mayorkas fulfilled a promise he made to himself last week, before the 118th Congress officially was sworn in.
The articles of impeachment against Mayorkas "high crimes and misdemeanors," Also known as House Resolution 8Fallon presented the following items to the House Monday, and they have been referred by the House Judiciary Committee.
Fallon pledged last week to file impeachment papers against Mayorkas once the Congress is sworn-in. The House Republicans' effort is just one of many the new GOP majority will make to defeat the Biden administration in its fight against the Biden administration over issues related to the southern border crisis.
"Since day one, Secretary Mayorkas' policies have undermined law enforcement activities at our southern border," Fallon stated this in a statement to Fox News last Wednesday. "From perjuring himself before Congress about maintaining operational control of the border to the infamous 'whip-gate' slander against our border patrol agents, Secretary Mayorkas has proven time and time again that he is unfit to lead the Department of Homeland Security."
MAYORKAS STAINS HE WON'T RESIGN OVER BORDER CRISIS AND INSISTS HE IS READY FOR GOP INVESTIGATIONS
"His willful actions have eroded our immigration system, undermined border patrol morale, and jeopardized American national security. He has violated the law and it is time for him to go," Fallon was also added.
Fox News reported last week, that Mayorkas' first article in impeachment papers against him is missing text. However, Fallon wrote that Mayorkas had failed faithfully to execute the articles. "Secure the Fence Act of 2006." According to the article, law requires that the secretary of Homeland Security be present. "maintain operational control over the entire international land and maritime borders of the United States."
Mayorkas is alleged in the second article. "in violation of his constitutional oath, willfully provided perjurious, false, and misleading testimony to Congress." Mayorkas' testimony from April 26 and Nov. 15, respectively, during which he stated that the border was secure is quoted in the article.
MCCARTHY CALLS ON MAYORKAS FOR RESIGNATION OR POTENTIALLY FACE INQUIRY: "ENOUGH IS ENOUGH"
Mayorkas is the final of three articles. "publicly and falsely slandered" border agents who were accused – but later cleared – of whipping Haitian migrants in Del Rio, Texas, in 2021.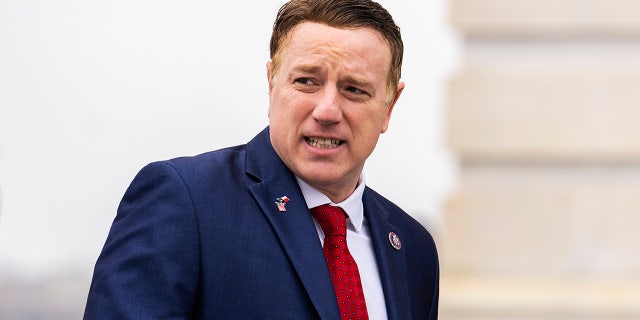 "The 511-page report by the U.S. Customs and Border Protection's Office of Personal Responsibility found 'no evidence that [Border Patrol agents] involved in this incident struck, intentionally or otherwise, any migrant with their reins,'" Fallon writes. "Secretary Mayorkas slandered his own Border Patrol agents and TXDPS Troopers involved in this incident, contributing to a further decrease in already-low morale among agents."
In late November, Rep. Kevin McCarthy (R-Calif.), visited El Paso and was elected by his GOP peers to serve as House Speaker on Friday. Mayorkas must resign. His handling of the crisis at the southern border with migrants and warned that he would be subject to an investigation by the House of Representatives.
"If Secretary Mayorkas does not resign, House Republicans will investigate every order, every action and every failure and will determine whether we can begin impeachment inquiry," McCarthy stated at the time.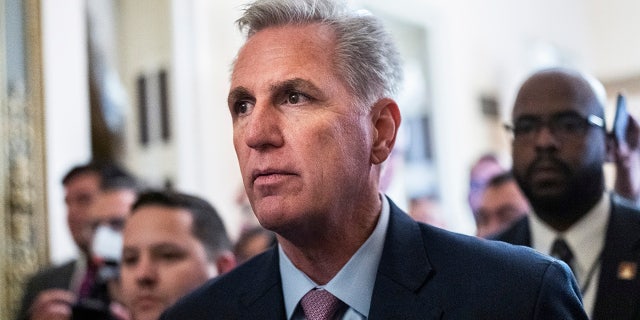 Mayorkas said Sunday that he would not resign due to his handling of the crisis at the border. He also stated that he is ready for future investigations from House Republicans and will continue to fulfill his daily responsibilities.
During an appearance on ABC's "This Week," Mayorkas previewed President Biden's Visit El Paso (Texas) George Stephanopoulos, anchor, pressed McCarthy to respond and whether he intends to do so.
"I do not. I've got a lot of work to do, and we're going to do it," Mayorkas stated.
CLICK HERE TO GET FOX NEWS APP
As a response to Mayorkas to be impeachedA spokesperson for DHS stated in November that they are nothing more than finger-pointing from Congress.
"Secretary Mayorkas is proud to advance the noble mission of this Department, support its extraordinary workforce, and serve the American people," The spokesperson stated this in a statement. "Members of Congress can do better than point the finger at someone else; they should come to the table and work on solutions for our broken system and outdated laws, which have not been overhauled in over 40 years."
Fox News' Tyler Olson (Fox News), Adam Shaw (Fox News) contributed to this article.
---
Read More From:
---
" Conservative News Daily does not always share or support the views and opinions expressed here; they are just those of the writer."