Rep. Ilhan Omar, D-Minn., During a Sunday appearance on CNN, "State of the Union" She "wasn't aware" There were "tropes about Jews and money" Answering questions regarding antisemitic remarks made in the past 
CNN's Dana Bash questioned Omar about what she learned from Jewish colleagues and friends. 
"A lot. I certainly did not or was not aware that the word 'hypnotized' was a trope. I wasn't aware of the fact that there are tropes about Jews and money. That has been very enlightening part of this journey. To insinuate that I knowingly said these things when people have read into my comments to make it sound as if I have something against the Jewish community is so wrong," Omar responded. 
"If you remember when I first got elected to Congress, it was when the FBI report came out, the rise of antisemitism, as the rep elected the first op-ed I wrote was on that report. Which I talked about how it was important for us as a community to coalesce around the Jewish community and fight against antisemitism," She continued. 
ILHAN OMAR'S ISRAEL TWEETS CONTROVERSIAL COMMENTS THE LATEST IN LONG LINE
Omar claimed that Omar was the 2012 winner "Israel has hypnotized the world," You can also add more "may Allah awaken the people and help them see the evil doings of Israel." 
She also replied to Glenn Greenwald's 2019 tweet that Rep. Kevin McCarthy (R-Calif.) was using to attack Omar and Rashida Talaib (D-Mich.) for their criticisms regarding Israel. 
Omar replied, "it's all about the Benjamin's baby," Was criticized both Republicans and Democrats for her comments. Omar has since apologized for past comments. 
On Sunday, the congresswoman was joined by Eric Swalwell of California and Adam Schiff from California to discuss Speaker McCarthy's decision to remove Schiff & Swalwell form the House Intelligence Committee.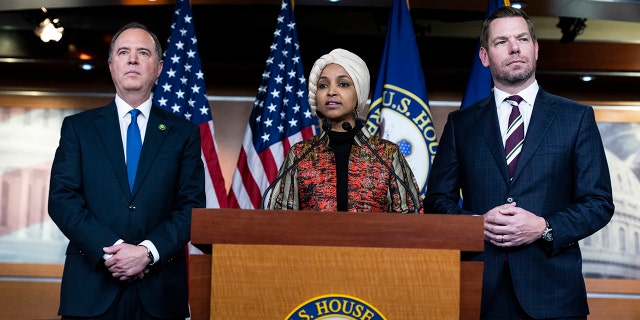 OMAR, SWALWELL, SCHIFF RESPOND AFTER OMAR MCCARTHY KEEP THEM OFF COMMITTEES – 'POLITICAL ENGEANCE'
A full House vote is needed for Omar's removal from the Foreign Affairs Committee. 
Omar was also charged Republicans who hate Islamophobia During her appearance on CNN. 
"It is politically motivated, and in some cases motivated by the fact that many of these members don't believe a Muslim refugee, an African, should even be in Congress, let alone have the opportunity to serve on the Foreign Affairs Committee," She told CNN host.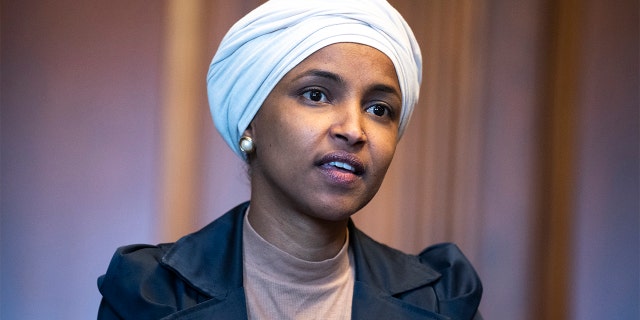 CLICK HERE FOR THE FOX NEWS APP
Bash stated that Omar appeared to be Bash "accusing Kevin McCarthy of racism." 
"I mean, I'm not making any accusations," Omar replied. "I'm just laying out the facts. You remember Donald Trump coming into my state and saying Muslims, Somali refugees are infiltrating our country. You remember Marjorie Taylor Greene coming to Congress after Rashida [Tlaib] and I got sworn in and saying Muslims are infiltrating Congress. You remember [Lauren] Boebert saying that I was a terrorist. What did McCarthy do? He said, 'she apologized, and we don't have to worry about her Islamophobia.'"