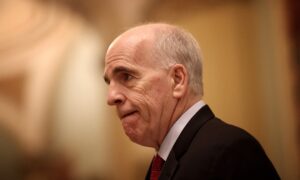 Former U.S. Senate Sergeant-at-Arms Michael Stenger will be buried Saturday, July 2, after a funeral Mass in Maywood, New Jersey, the Trinka-Faustini Funeral Service announced.
Stenger died the morning of June 27, although word of his death did not circulate widely until that night. Social media was full of conspiracy theories, some claiming Stenger had been murdered to prevent him from testifying about the Capitol violence before the January 6 Select Committee.
Michael C. Stenger
No cause of death has been released. There are no indications Stenger's death was suspicious.
A resident of Falls Church, Va., Stenger retired from the sergeant-at-arms post after the January 6 siege at the U.S. Capitol.
Michael Conrad Stenger was born July 11, 1950. He served in the U.S. Marine Corps during the Vietnam War, then embarked on a 35-year career with the U.S. Secret Service. He rose to the position of assistant director.
Stenger joined the staff of the U.S. Senate Sergeant-at-Arms in 2011. He was appointed Sergeant-at-Arms in April 2018 by then-Senate Majority Leader Mitch McConnell. Stenger became the 41st person to hold that title since April 1789.
Stenger maintained "core values" in his Senate post, a co-worker wrote online. "From the beginning he was a breath of fresh air. He brought the perspective of a regular person to a place known for outsized egos," said Don Kellaher, former U.S. House deputy sergeant-at-arms. "Mike never forgot where he came from. The best personification of a 'Jersey Boy.' "
Stenger was forced from his job by McConnell after the security debacle on January 6. He joined U.S. Capitol Police Chief Steven Sund and House Sergeant-at-Arms Paul Irving in the unemployment line as a result of mistakes made on January 6.
Sund requested help from the National Guard on January 6, but Irving and Stenger
---
The views and opinions expressed here are solely those of the author of the article and not necessarily shared or endorsed by Conservative News Daily
All copyrights and legal uses attributed to content are located at the article origination: The Epoch Times, Former Senate Sergeant-at-Arms Michael Stenger to be Buried July 2 in New Jersey
Original Image Credit: The Epoch Times 
---