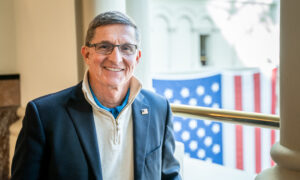 Retired Lt. Gen. Michael Flynn has warned that the United States faces an unprecedented threat from the inside in the wake of the FBI's raid on former President Donald Trump's home in Florida earlier this week.
The former head of the Defense Intelligence Agency and national security adviser to Trump said that while the United States faces a range of external threats from the Chinese regime to Iran, "the greatest threat to our country right now is clearly internal."
"The security state complex and the complexity of the security state—as it has grown in leaps and bounds and bounds in the last 20 years or so—it is now overtaking our system of government and our rule of law," Flynn said in an Aug. 11 interview with the "Capitol Report" program on NTD Television Network, the sister media outlet of The Epoch Times.
"We can no longer deny that."
Local law enforcement officers are seen in front of the home of former President Donald Trump at Mar-A-Lago in Palm Beach, Fla., on Aug. 9, 2022. (Giorgio Viera/AFP via Getty Images) 'Un-American'
Flynn was not surprised by the raid on the former president's Mar-a-Lago property, pointing to his own experiences being targeted by the FBI.
The former national security was the subject of an FBI investigation in 2016 while the agency was probing into alleged connections between the Trump 2016 presidential campaign and Russia. The FBI had little reason to suspect the campaign and Flynn, and documents later released by the Justice Department (DOJ) revealed that agents believed that Flynn's case should be closed.
Flynn was charged in late 2017 with lying to the FBI during a January 2017 interview about his calls with then-Russian ambassador to the United States Sergey Kislyak. Flynn pleaded guilty later that year, but then withdrew his
---
The views and opinions expressed here are solely those of the author of the article and not necessarily shared or endorsed by Conservative News Daily
All copyrights and legal uses attributed to content are located at the article origination: The Epoch Times, Flynn Warns That 'Greatest Threat' to US is 'Security State Complex' Following FBI's Raid Targeting Trump
Original Image Credit: The Epoch Times 
---