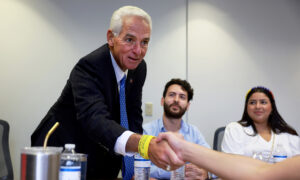 Just days before the Democratic gubernatorial primary in Florida, candidate Charlie Crist popped in at a Souls to the Polls event in North Central Florida, thrilling many Democrats in the post-church, Sunday-afternoon crowd.
Though he'll face three other challengers on Aug. 23, the congressman ignored them all in his pre-Primary Day appearance. Instead, under the blistering Florida sun, Crist attacked Republican incumbent Gov. Ron DeSantis, as if his opponents don't exist. It's a tactic he's employed throughout his campaign.
Meanwhile, Crist's leading adversary in the primary continued with a very different strategy. Nikki Fried, the state's commissioner of agriculture and consumer services, relentlessly hammered at both Crist and DeSantis on social media. She often posts dozens of diatribes per day.
As both Fried and Crist vie for their party's nomination in the fall general election, polling suggests Crist has amassed a sizable lead with voters heading into the Tuesday contest. Fried appears to be running second in the field of four Democrat candidates.
Nikki Fried, Florida's commissioner of agriculture and consumer services, and a Democratic candidate for 2022 Florida gubernatorial race, at the White House in Washington, on July 20, 2021. (Drew Angerer/Getty Images)
Since May 2021, Crist has received more than $7.6 million in donations, and the Friends of Charlie Crist committee has raised more than $6.4 million, candidate financial records filed with the state show. Fried has raised almost $3.5 million.
Contributions to DeSantis and to the Friends of Ron DeSantis committee total more than $140 million, according to Transparency USA, which tracks money in state politics. The incumbent has spent about $13.7 million on a campaign that's so far free of attacks on any of his challengers.
Crist, however, has focused on just one thing as the primary contest creeps closer. Instead of acknowledging how he differs from the
---
The views and opinions expressed here are solely those of the author of the article and not necessarily shared or endorsed by Conservative News Daily
All copyrights and legal uses attributed to content are located at the article origination: The Epoch Times, Florida Democrats Challenging DeSantis Opt for Contrasting Campaign Strategies
Original Image Credit: The Epoch Times 
---