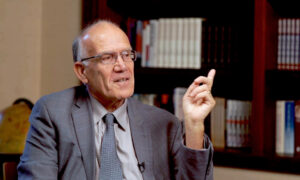 Following the Federal Bureau of Investigation's (FBI) raid on Mar-a-Lago, military historian Victor Davis Hanson is calling for the dissolution of the agency, which he calls "one of the great threats to democracy."
"This idea of a Federal Bureau of Investigation … its record is too dangerous to democracy," Hanson said in an interview with EpochTV's American Thought Leaders program following the raid on former President Donald Trump's Mar-a-Lago resort. "The left always says democracy dies in darkness. Right now, at this moment, the FBI is one of the great threats to democracy."
"It's a terrible thing to say," Hanson said. But he holds his position: the FBI, he says, intervenes in elections, lies under oath, and is a "massive behemoth that is out of control."
Attacking Trump and Allies
The raid on Mar-a-Lago, according to Hanson, was part of a "series of incidents" against Trump and Trump's allies that shows the FBI and Department of Justice (DOJ) to be "out of control."
"If you want a lurid diary of Joe Biden's and you're in the FBI, and you become a retrieval service for the Biden family, you drag out James O'Keefe in his underwear," Hanson said, referring to the FBI's search of citizen journalist James O'Keefe's home in November 2021. The raid was reportedly motivated by O'Keefe's possession of a diary belonging to Ashley Biden, President Biden's daughter.
James O'Keefe, founder of Project Veritas Action. (Courtesy of Project Veritas)
"You go to Roger Stones's house with a SWAT team. You put Peter Navarro on leg irons. You go to Rudy Giuliani's office and mess it up," Hanson said, referring to other instances where the FBI prosecuted or raided Trump allies' homes.
"So it was part of that series that the FBI and this DOJ are out of control, and
---
The views and opinions expressed here are solely those of the author of the article and not necessarily shared or endorsed by Conservative News Daily
All copyrights and legal uses attributed to content are located at the article origination: The Epoch Times, FBI, a Great Threat to Democracy, Must Dissolve: Victor Davis Hanson
Original Image Credit: The Epoch Times 
---