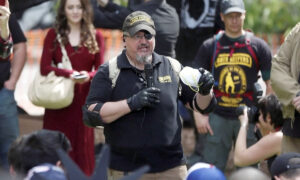 Oath Keepers founder Elmer Stewart Rhodes III is challenging the House Jan. 6 Select Committee to let him testify on a live broadcast so he can pit the truth as he sees it against the committee's "pack of lies."
"Public televised testimony, that's the only condition," Rhodes said.
"If I were given a chance to give an opening statement, I'm writing up what I would give them," Rhodes told The Epoch Times on July 10. "If they decline to accept my offer, I'm going to go ahead and publish my opening statement."
Rhodes said he does not expect the committee to accept his offer because his appearance would be a free-wheeling discussion, not a scripted presentation.
"They should jump at the opportunity, but they won't because they don't want that," he said. "What they want is what you've seen, which is just a scripted, controlled, pre-screened show trial. They're only going to put people in front of the public that they know are going to say what they want them to say."
"I want to push back," Rhodes said. "I want to cut back against this false narrative. They don't want the truth. That's why they won't let me just get up there, unscreened, uncoached, and just answer[ing] questions because they don't want the truth out.
"If they were concerned with the truth, the whole truth, and nothing but the truth, they would welcome the opportunity to talk to me because I pled the Fifth on everything from election time on back in February. I answered no questions about anything after election night."
'Waive My Fifth Amendment Rights'
The Select Committee next meets on July 12 in Washington D.C.
The panel might hold a prime-time hearing on July 14. It plans to cover the issue of domestic extremism and the roles
---
The views and opinions expressed here are solely those of the author of the article and not necessarily shared or endorsed by Conservative News Daily
All copyrights and legal uses attributed to content are located at the article origination: The Epoch Times, EXCLUSIVE: Oath Keepers Founder Stewart Rhodes Wants to Testify Live, Challenge J6 Committee's 'Pack of Lies'
Original Image Credit: The Epoch Times 
---