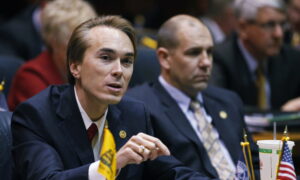 INDIANAPOLIS—A former Indiana state senator and a longtime casino executive were sentenced Wednesday to federal prison terms for their roles in a scheme that illegally funneled gambling company money to the politician's unsuccessful 2016 congressional campaign.
The federal investigation into contributions to Republican Brent Waltz's campaign tied to casino company lawyer John Keeler led the Indiana Gaming Commission to force the company out of its lucrative ownership of projects for new casinos in Gary and Terre Haute.
Waltz, 48, of Greenwood, pleaded guilty in April to helping route about $40,000 in illegal contributions to his campaign and making false statements to the FBI. He was sentenced to 10 months in prison.
Waltz said during Wednesday's court hearing that his "greatest regret" was that his actions tarnished his reputation as a public servant, which included 12 years as a state senator representing the southern suburbs of Indianapolis, The Indianapolis Star reported.
Federal prosecutors had requested the 10-month sentence. U.S. District Judge James Sweeney, who also ordered Waltz to pay a fine of $40,500, could have sentenced him to up to five years in prison on each charge.
Sweeney said the political contribution scheme was "a plan with some sophistication."
"This was clearly calculated from the start to get a leg up, to get that outside support," the judge said.
Keeler, the former general counsel and co-owner of Indianapolis-based Centaur Gaming, was sentenced to two months in prison and fined $55,000.
Keeler was a Republican legislator for 16 years in the 1980s and 90s. He pleaded guilty in April to filing a false tax return for claiming as a business expense $41,000 that the casino company paid to a political consultant who, prosecutors say, made the contributions through straw donors.
Sweeney gave Keeler, 72, a shorter sentence than prosecutors sought, citing his age,
---
The views and opinions expressed here are solely those of the author of the article and not necessarily shared or endorsed by Conservative News Daily
All copyrights and legal uses attributed to content are located at the article origination: The Epoch Times, Ex-Indiana Lawmaker Sentenced in Casino Money Scheme
Original Image Credit: The Epoch Times 
---