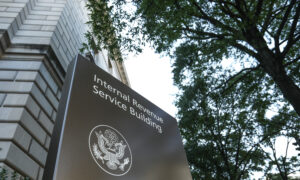 The IRS audited 197 low-income families for every high-wealth family in 2019, according to the Government Accountability Office (GAO)—a number that some experts expected to climb under an IRS turbocharged with more money and manpower.
Over the next decade, the Democrat's new "Inflation Reduction Act" will provide the IRS with 87,000 new agents and $80 billion in funding, with nearly $46 billion earmarked for enforcement.
According to the Congressional Budget Office, the tax and spend bill is projected to bring in $203.7 billion in revenue from 2022 to 2031.
President Joe Biden's administration has promised no new taxes or audits on households making less than $400,000 per year.
But experts say that promise may be hard to keep.
A previous CBO analysis using a similar funding plan featured in the Inflation Reduction Act found audit rates would be restored to levels around 10 years ago. The analysis showed the audit rates would rise for all taxpayers, but the ones with higher incomes would face the biggest increase.
The oldest data available in the 2022 Government Accountability Office report released this year was for 2010. That's when the IRS was better funded and staffed with some 95,000 full time employees.
From 2010-2019, the IRS audited 0.9 percent across all income groups compared to 0.25 percent now.
Rachel Greszler, a budget and entitlements senior research fellow at the Heritage Foundation, told The Epoch Times that even returning to the 2010 audit levels for those making more than $400,000 per year, would still fall short of the IRS's revenue goal.
"My rough estimate shows that returning to the 2010 audit levels for all income groups would only generate a little over 20 percent of the bills' estimated enforcement revenues in 2031," she said.
In her commentary on the Heritage Foundation's website Aug. 12, Greszler wrote
---
The views and opinions expressed here are solely those of the author of the article and not necessarily shared or endorsed by Conservative News Daily
All copyrights and legal uses attributed to content are located at the article origination: The Epoch Times, Low income audits to triple with new IRS agents
Original Image Credit: The Epoch Times 
---