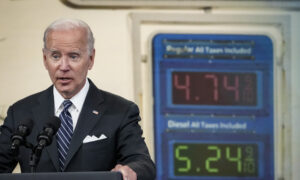 The Biden administration has announced plans to block all new offshore oil and gas drilling in the Atlantic and Pacific oceans, while potentially letting a handful of new leases go ahead off the coast of Alaska and in the Gulf of Mexico, charting a different course from a Trump-era plan that sought to expand offshore drilling to bolster America's energy security.
The draft plan, released on July 1 by the Interior Department, lays out several options for public input as to how many offshore oil and gas lease sales should be held over the next five years, ranging from nearly a dozen new leases to zero.
"The proposed plan puts forward several options from no lease sales up to 11 lease sales over the next five years," said Interior Department Secretary Deb Haaland said in a statement. "The time for the public to weigh in on our future is now."
Open for consideration and public input are ten potential new leases in the Gulf of Mexico and one in the Cook Inlet off the southern coast of Alaska, as laid out in detail in the Draft Proposed Plan (DPP) (pdf).
Entirely removed from consideration are any new leases in federal waters off the Atlantic and Pacific coasts.
A oil platform in the Gulf of Mexico is seen in a file photo on Oct. 27, 2011. (Jon Fahey/AP Photo) 'America-First Offshore Energy Strategy'
This stands in contrast to a Trump-era proposal for 47 new offshore drilling leases, including in the Atlantic and Pacific oceans.
Former President Donald Trump, who sought to expand U.S. fossil fuel production as a bulwark against supply disruptions and to bolster America's energy security, issued an executive order in 2017 titled "Implementing an America-First Offshore Energy Strategy."
In it, Trump wrote that, "increased domestic energy production on Federal lands
---
The views and opinions expressed here are solely those of the author of the article and not necessarily shared or endorsed by Conservative News Daily
All copyrights and legal uses attributed to content are located at the article origination: The Epoch Times, Biden Looks to Block or Limit New Offshore Drilling, Scaling Back Trump-Era Plan to Pump More Oil
Original Image Credit: The Epoch Times 
---