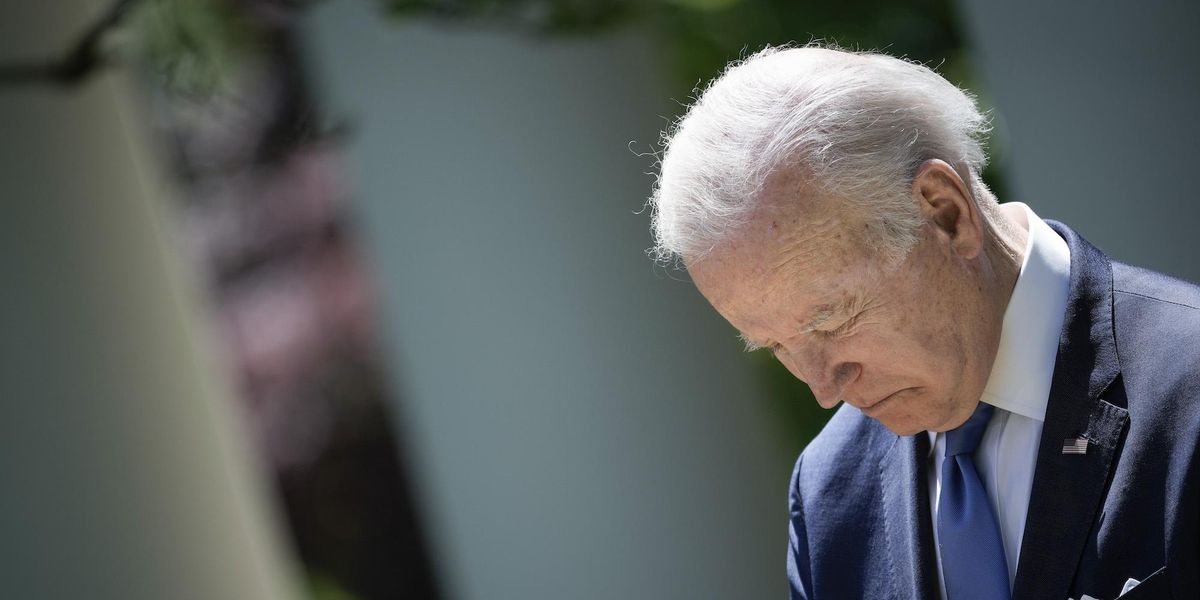 An astounding 85% of Americans said that the country was headed in the wrong direction in a recent survey.
The AP-NORC survey found that only 14% of Americans said that the country was headed in the right direction, a dire result for Democrats hoping to hold on to congressional power in the midterm elections.
The percentage of Americans optimistic about the country's direction has steadily collapsed from 29% in April to 21% in May and to 14% in June.
In the newest survey 92% of Republicans and 78% of Democrats said the country was headed in the wrong direction.
Americans had a worsening negative view of President Joe Biden in the survey.
Only 38% said they approved of the job Biden is doing, while 57% said they disapproved of the job he's doing.
Even worse for the president, only 28% of Americans said they approved of Biden on the economy, the lowest rating Biden has received in the survey. When asked about gun policy, only 36% said they approved of Biden's performance.
While some progressives like Rep. Alexandria Ocasio-Cortez (D-N.Y.) have blamed Biden's low polling on his lack of attention for his left-wing socialist base, centrists in the part have blamed progressives for pushing unpopular policies like "defund the police" and transgender activism.
One analysis by Goldman Sachs Global Investment Research predicted that economic concerns would cost Democrats control of the House of Representatives in the upcoming midterm elections.
"The most recent readings of most economic indicators we examine suggest that Democrats will lose the majority after this year's elections," the group wrote. "While falling real disposable income suggests a large loss, most other indicators suggest… a loss of 15 to 25 seats."
Here's more about the pessimism of Americans:
[embedded content]
AP-NORC Poll: Pessimism about US economy deepens

www.youtube.com

---
---
" Conservative News Daily does not always share or support the views and opinions expressed here; they are just those of the writer."