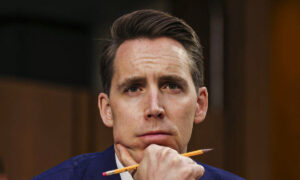 Sen. Josh Hawley (R-Mo.) thinks it is "long past time" that the Department of Defense (DOD) and other federal agencies stop doing business with consulting firms like McKinsey that also have contracts with elements of the Chinese government.
"The fact that these consultants are awarded huge contracts by our Defense Department and other federal agencies, while they are simultaneously working to advance China's efforts to coerce the United States is appalling and completely unacceptable," said Senator Hawley said in a July 18 statement.
"It is well past time that we hold these companies accountable and prohibit this kind of conflict of interest in government contracting," Hawley said.
To that end, the Missouri Republican is introducing a legislative proposal—titled the "Time to Choose Act"—that would prohibit federal agencies from contracting with consulting firms that hold a contract with the Chinese government, the Chinese Communist Party ((CCP), or any of either's subsidiaries, affiliates, or proxies.
"The bill would force these government contractors to choose whether to stand with the United States in its efforts to protect Americans against China's imperial ambitions, or forfeit U.S. government contracts," the statement said.
The Hawley statement singled out the London-based McKinsey & Company, which describes itself as a "global management consulting firm," and noted that concerns have been raised in recent years about the 27,000-employee international corporate giant's relationship with China.
Hawley pointed to a November 2021 NBC News report that found "McKinsey's consulting contracts with the federal government give it an insider's view of U.S. military planning, intelligence and high-tech weapons programs.
"But the firm also advises Chinese state-run enterprises that have supported Beijing's naval buildup in the Pacific and played a key role in China's efforts to extend its influence around the world."
McKinsey, which also maintains a large office in the nation's capital, currently has nearly 1,400 individual
---
The views and opinions expressed here are solely those of the author of the article and not necessarily shared or endorsed by Conservative News Daily
All copyrights and legal uses attributed to content are located at the article origination: The Epoch Times, Hawley Proposal Targets Federal Consultants Who Also Work for China
Original Image Credit: The Epoch Times 
---