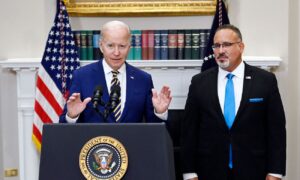 A coalition of Republican-led states petitioned the Supreme Court on Wednesday to reject President Joe Biden's bid to reinstate his student loan forgiveness scheme and instead keep it frozen until litigation around it is resolved, while accusing the administration of exploiting the COVID-19 pandemic to hide the president's "true goal" of erasing student debt.
In a Supreme Court filing (pdf), the GOP-led states argued that Biden exceeded his executive authority in announcing the student debt wipeout, which is the subject of several lawsuits and recently ordered to be put on hold by a court.
On Nov. 10, the St. Louis-based U.S. Court of Appeals for the 8th Circuit froze Biden's debt forgiveness plan and prompted the federal government to stop receiving applications.
But the Biden administration filed an emergency appeal with the Supreme Court last week, seeking to overturn the lower court's decision and reinstate the student loan forgiveness scheme.
The Biden administration argued in a filing (pdf) that the 8th circuit court's "erroneous injunction" would lead to a number of harms, including leaving "millions of economically vulnerable borrowers in limbo."
President Joe Biden (L), joined by Education Secretary Miguel Cardona, speaks on student loan debt in the Roosevelt Room of the White House on Aug. 24, 2022. (Alex Wong/Getty Images)
The administration also suggested in the filing that the Supreme Court could bypass the 8th circuit court and hear the case on an expedited basis, while also citing the national emergency declared due to the COVID-19 pandemic and provisions in the Heroes Act as justification for Biden's executive decision to provide student debt relief.
But the GOP-led states—Arkansas, Iowa, Kansas, Missouri, Nebraska, and South Carolina—said in their filing that Biden's request to lift the freeze is not justified by any "emergency or imminent harm" while lifting the injunction "risks unleashing on the States a wave of harms that could not be undone."
The states also challenged the Biden administration's rationale of using the COVID-19 pandemic as justification for the student loan wipeout scheme. They accused the Biden administration of relying "on the COVID-19 pandemic" as "a pretext to mask the President's true goal of fulfilling his campaign promise to erase student-loan debt."
The GOP-led states argued that the Biden administration is trying to connect the debt cancellation to the pandemic "by citing current economic conditions supposedly caused by COVID-19."
"But those conditions are not directly attributable to the pandemic,"